---
Cuno Amiet: Expressionism and «Brücke» movement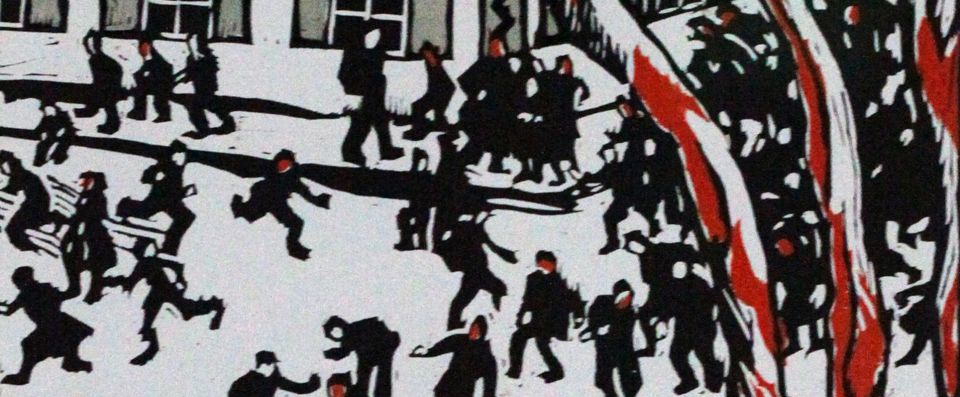 Cuno Amiet's artistic career follows the development of modern art, as it evolved during the artist's lifetime. He promptly adapted neo-impressionist and expressionist forms in his paintings; hence Amiet can be considered a pioneer of 20th century European painting.
Our preceding blog entry was dedicated to Amiet's early paintings during his prosperous stay in Bretagne, where he came to see artworks by Paul Gauguin and furthermore, where his French artist friends introduced him to Van Gogh's art and the usage of pure colour. After returning from Pont-Aven and subsequent years of intense working, an exhibition showing over 40 artworks by Amiet was scheduled by 1905 in Dresden at the Richter gallery. Certainly, local artists came to see the show. That Swiss artist, who had been in Pont-Aven and was familiar with Gauguin and Van Gogh, must have made a great impression on the young members of the «Brücke» group, for afterwards, they asked Amiet to join their movement. «Die Brücke» (The Bridge) was a group of German artists formed in Dresden in 1905. Founding members were Ernst Ludwig Kirchner, Fritz Bleyl, Erich Heckel and Karl Schmidt-Rottluff. They published a broadside, called «Programme» in 1906, where Kirchner wrote:
"We call all young people together, and as young people, who carry the future in us, we want to wrest freedom for our actions and our lives from the older, comfortably established forces."
The seminal group had a major impact on the evolution of modern art in the 20th century and the creation of Expressionism.
Since Amiet joined the group, he henceforth adapted expressionist forms in his paintings. In 1908 he painted «Stillleben mit Zitronen», a still life depicting lemons. Particularly striking about this image are the vivid colours that Amiet employs and the abstinence of traditional perspective. A plate with two lemons is presented on an abstractly depicted blue table. Its surface seems distorted because of the rough brush strokes, characteristic of Amiet's paintings from that period. While a mask-like doll head peers over an edge, an orange and a green textile decorate the interior. Behind the table, a basket-chair is integrated within the one dimensional, elusive background. The usage of complementary contrast is paradigmatic in Amiet's oeuvre; here he combines vivid orange with dark blue colours.
As a part of the Bromer Art Collection there is a further painting by Amiet, as well highly expressive, which he painted in 1909, one year after completing the still life with lemons. In this painting Amiet portrayed a child by applying pastose colours on the canvas. The vivid multi-coloured cross-hatching in the background and the narrowed elaboration of facial features give the portrait its expressive appearance.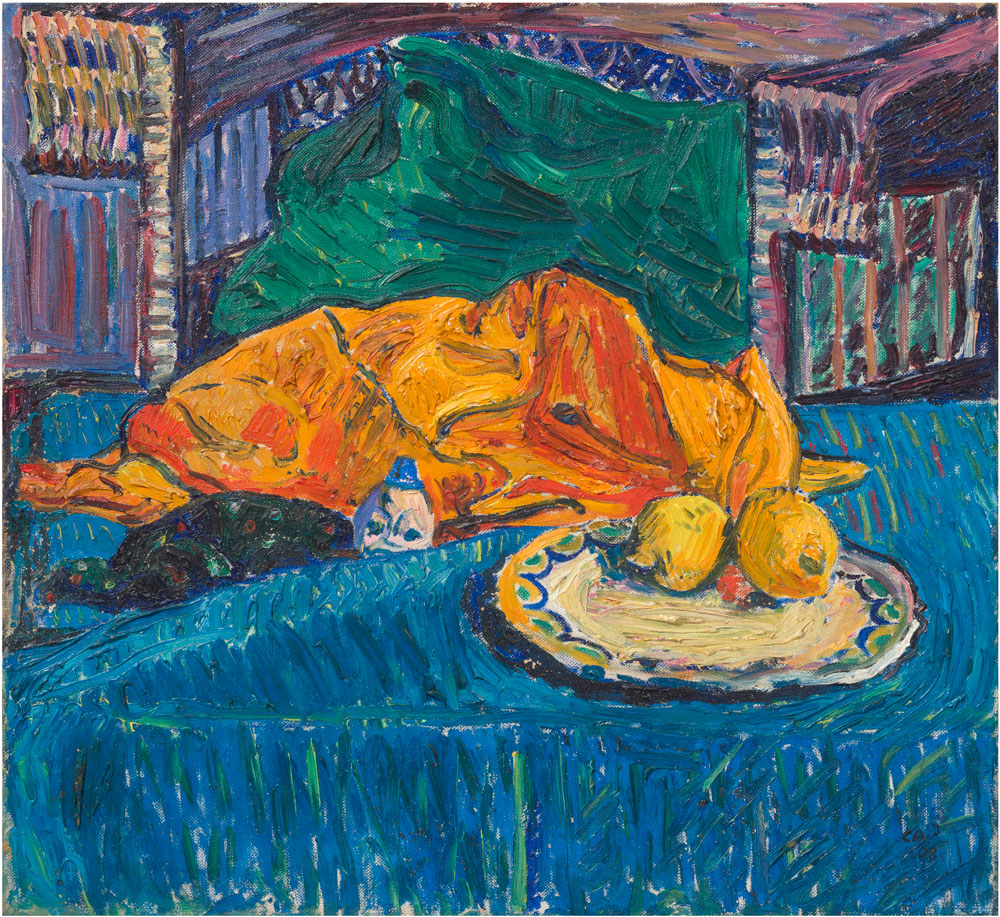 Cuno Amiet, "Stillleben mit Zitronen", 1908, oil on canvas, 55 x 60 cm
Cuno Amiet, "Bildnis eines Kindes", 1909, oil on canvas, 32.5 x 32 cm
On regarding those two canvases plus the colour woodcut displayed on the horizontal header («Schulpause im Winter» (Schoolbreak during winter time), no date, 32.5 x 32 cm), we probably manage to understand the admiration and enchantment that Amiet's art produced in his «Brücke» fellows.
Our next blog entry is going to move further on, it is going to tell us about Amiet's countryside artist house and by then, about his life as a successful painter.